Ductless Split Air Conditioners
Ductless Cooling and Heating Solutions for Ottawa Homeowners
Ductless Air Conditioning
Efficient Cooling Without Ducts
If you are looking for a ductless cooling solution in the greater Ottawa area you have come to the right place! AirZone specializes in ductless air conditioning and has extensive experience with these systems. We have installed a large number of successful ductless cooling systems and are experts at bringing you the comfort you need with a consistent temperature throughout your home.
We offer a full line of ductless split air conditioners from the top manufacturers including Mitsubishi, Lennox, Moovair,  and more! We are the right team to know exactly what's needed for installations simple to complex due to our VAST experience with these systems.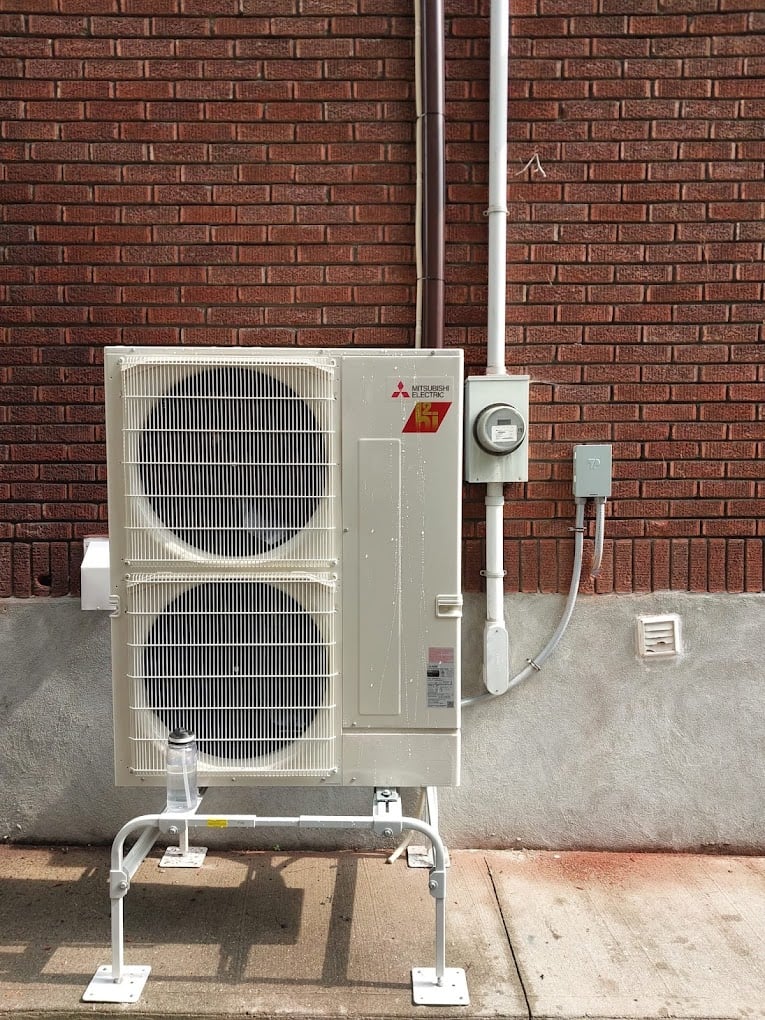 Why Is A Ductless Air Conditioner Needed?
For older houses that do not have the proper ducts in place to support an air conditioning system a ductless split air conditioner is a great option! It allows for single room temperature control as well as multi room control.
Similar to a range hood over your stove these cooling products allow you to add air conditioning to the areas of your home that really need it. This is a very popular option in older communities such as the Glebe in Ottawa because it can help to create an even temperature throughout the home.
Popular Ductless Air Conditioning Systems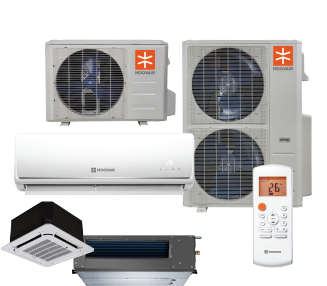 Ultra Green
Moovair is a product that has been tailored for the Canadian environment! Manufactured by midea and distributed by the Master Groupe, this product line provides incredible performance with an attractive price point.  The multi moov ductless line offers hundreds of
Stop Talking About The Hottest Room In The House
We specialize in custom cooling solutions that will give you the best in total indoor air comfort. Many of our units are whisper quiet providing cooling without you even noticing it is running. No old fashioned window air conditioner needed!
The Right Ductless Cooling Product Makes All The Difference
AirZone HVAC Services carries a full line of ductless splits to compliment your home and keep you cool in the summer. We even have an innovative picture frame product that will cool your home while displaying your favourite picture!
Ductless Air Conditioner Cost Ottawa
One of the best benefits of a ductless air conditioner is the flexibility of the installations and the wide range in terms of efficiency, sizing and brands. This makes pinpointing the cost on a ductless split air conditioner difficult. In fact, a ductless air conditioner that utilizes more than one indoor distribution head is actually a heat pump that provides both heating and cooling to the area.
As you can see ductless air conditioner prices require many parameters to give an accurate cost. We tend to see that clients that are looking for cooling only (not heating ability) solutions often spend between $2500-$4000 for their single zone cooling system. Clients looking to cool multiple areas average costs between $3500-$7000. Those projects with 3-4 indoor zones connected to very high end outdoor units may spend $8500-$20,000 depending on the parameters. Note that these are the current prices in 2021 and are subject to change over time.
Many of our Ductless AC Systems are eligible for the Greener Home Grant! This can often pay for an entire system for qualifying household.
Be The Envy Of Your Neighbours With A Cool Garage
We spend large amounts of time in our garages and deal with hot sticky temperatures in this space all summer long.  Why not add a ductless air conditioner to your garage and take this space to the next level?  No longer will you suffer with hot garbage smells all summer as you try and build your next project.  A garage party has never been more comfortable than now with a ductless air conditioner to eliminate high humidity and bring temperatures to a perfect set point. Humidity can wreak havoc on high end tools, why not protect your investments by controlling your climate. 
Whether it is a workshop, a home gym or a place to socialize, you can elevate comfort with a ductless air conditioner or a ductless heat pump for year round comfort. Your home is your castle and your garage is an important part of your home!
We offer custom designed garage air conditioning systems for Ottawa Homeowners!
Ductless Heating Questions and Answers
Ductless air conditioners are some of the quietest heating and cooling units on the market! The outdoor units are less than half the sound of a standard central AC and tend to run in the 45-60 decibel range. The indoor units are even quieter, with many running in the 19-22 decibel range. These are truly whisper quiet air conditioners. Please be aware that if your unit has a pump installed on it, the pump may run louder than the actual ductless head.
Ductless mini splits are so unique in the fact that they can have anywhere from 1-8 indoor heads. They come in many different levels of quality and numerous different sizes which makes average pricing difficult but below are some averages in the Ottawa area in 2024. 
Single Zone: $3500-$6,000
Two Zone: $5000-$10,000
Three Zone: $8000-$14,000
Ductless air conditioners offer many advantages over a standard central air conditioner. Ductless units are almost always much more efficient and are always much quieter. The biggest advantage to mini splits, is that they do not require ductwork. This allows you to completely zone your house. If you want to keep the master bedroom at 18 degrees and the living room at 22, you can do that! 
In 2024, most units we install in the mini split category provide both heating and cooling. That being said, there are some very affordable single zone cooling only options to help deal with that pesky hot bedroom. As soon as you install more than one head on an outdoor unit, the entire system becomes a heating/cooling unit just based on the science of making multiple heads operate. 
Like any mechanical system with moving parts, ductless mini splits do require maintenance. These units have factory installed filters that should be cleaned frequently, they are washable and should be removed to clean once every 1-3 months depending on the usage and dust in the house. Some manufacturers actually recommend every 2 weeks! 
Furthermore, you should have an annual maintenance performed by a professional HVAC technician from AirZone HVAC Services. This ensures that the drainage is working properly, refrigerant levels are good and you are getting the most efficiency out of your unit.
Unfortunately, not enough maintenance occurs on most ductless mini splits. Due to this we receive a lot of calls about leaking mini splits. There are a few reasons you may see water leaking from your indoor head. If the filters are not cleaned it may cause airflow problems that result in a frozen indoor coil. When the frozen coil melts, it will produce water leaks. Also the drain line on these units frequently gets plugged and can cause water backing up. As a homeowner, cleaning the filters frequently and booking an annual maintenance is the best thing you can do for your system!
Fast and free estimates for Ottawa ductless AC solutions.