Residential Water Heating Products and Services
AirZone HVAC Services is a premier boiler dealer specializing in boilers in Ottawa. We are Bosch and IMC dealers and provide a full line of specialized boiler service to the greater Ottawa area.
We provide free no obligation estimates for new boiler products. If you have a question about the boiler services that we offer, we encourage you to contact our friendly team. We are here to answer your questions about which heating system is right for your home!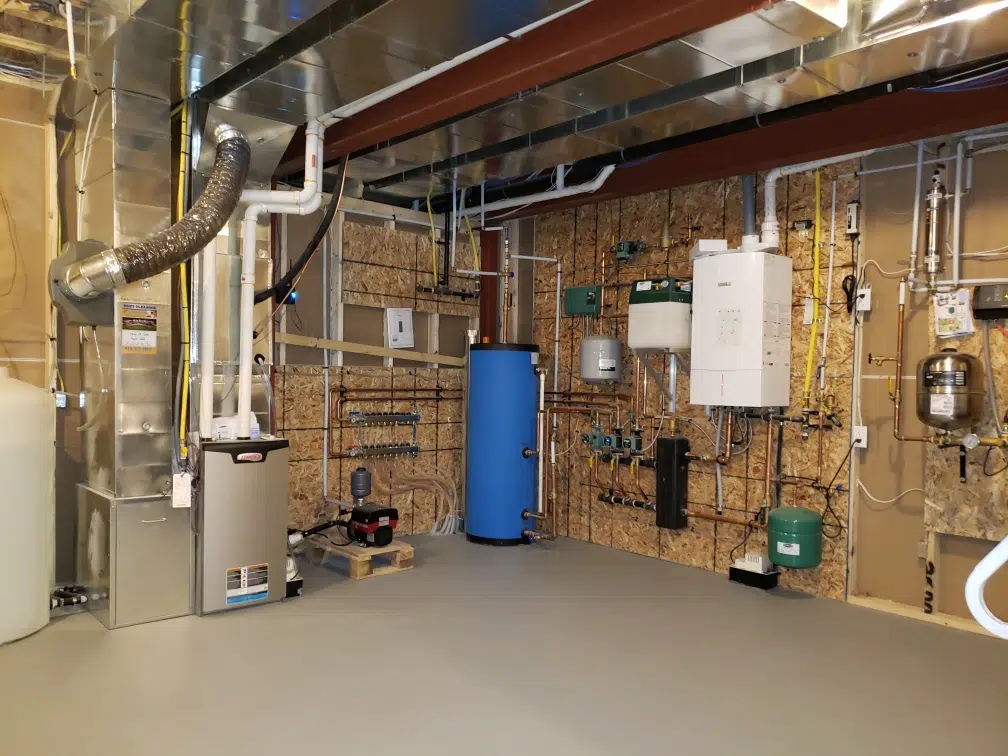 Very Efficient
Bosch is consistently voted as one of the most reliable brands on planet earth! The line of high efficiency boilers lives up to the name. Singular combi wall boilers provide efficient heating and plenty of hot water for most residential
Boiler Services From AirZone HVAC
Whether you need a new boiler installation in a new home or are retrofitting an existing water heater we have you covered with high quality boilers from brands such as IBC and Bosch. We offer boilers installation services to the greater Ottawa area with a complete supply and install approach.
We provide annual maintenance for boilers including filter cleaning to ensure you are getting the most out of your home heating equipment. Our new family and family+ plans are perfect to save big while enjoying worry free scheduled maintenance.
Our technicians are extremely experienced with boiler repairs due to our large amount of work in areas such as the Glebe. We regularly work on homes that have old and new systems installed including radiant heating. We offer honest repairs, upgrades, and water heating solutions.
Our easy boiler financing program offers one low monthly price for the equipment you want in your home. Financing is a great option to get a new boiler installed quickly through our preferred lending partner and saves you money in the long run versus renting. Apply online today!
We often speak with consumers who are confused about the differences between a boiler and a hot water heater. A hot water heater comes in two forms: a tank heater or tankless product. With a tank heater, water is warmed by utilizing electric heating coils within the drum. This warms the water up and maintains it at a temperature set by the hot water heater's thermostat.
With a tankless hot water heater, water is passed through the unit on demand. It is heated as it passes through supplying a continuous flow of hot water that does not run out (assuming that the volume of hot water is sufficient for all open faucets, showers, etc.).
A boiler is different in that it actually boils that water to produce steam. Steam is a very effective means of heating your home and is easier to pass through pipes due to its density versus water in liquid form.
A boiler is also capable of replacing the need for a hot water tank. Water from within the unit that has not turned into steam can be used for hot water purposes. The boiler unit acts as a system for both hot water supply and other needs such as home heating.
Boilers are a very popular method of heating a home in the Ottawa region. Many older homes in the downtown core, Glebe and Westboro areas are utilizing boilers and have homes fitted with beautiful ornate radiators.  There is a growing number of newer homes that are coming fit with boilers as well for a number of reasons.
The popularity of in floor radiant heating has led to an increased demand for high efficiency boilers in Ottawa. The radiant floor heating delivers a very comfortable home environment with the added benefit of warm floors as well as no unsightly radiators, ductwork or tubing.
High efficiency combi boilers allow you to source your heating requirements and domestic hot water requirements through the same device. This means you do not need a hot water tank tanking up valuable space in your home! Also the life expectancy of a high efficiency boiler is nearly double that of a standard water heater.
In many new homes, where space may be limited in a mechanical room, the ability to have one small wall hung boiler is very popular. The possibilities are nearly endless with newer boiler technology as you can have a boiler tied into an air handler, allowing you to once again save space in a mechanical room but enjoy the filtration and air circulation of an air handler. 
Finally, we see clients opting for snow melt systems utilizing high efficiency boilers. We are able to tie a boiler into a system of heating tubes in your driveway, walk way or paths to ensure that you will never need to shovel again! Allow one of our in house specialists to discuss the endless possibilities with you today.
Regardless of your specific boiler needs, rest assured that AirZone HVAC Services will provide you with high quality boiler designs, installations, repairs, and maintenance.
Environmentally Friendly Choices
Instantaneous Hot Water Heating
Our new boiler products are tankless systems that do not require the large drum typically found in Ottawa households. Since our Bosch boilers act as both a hot water heater and home heater, you receive all of the benefits of a tankless hot water heater product.
Because instantaneous tanks are extremely efficient, you will receive energy saving benefits specifically for hot water heating in your home (not heating purposes). This helps to offset the increased cost of boiler heating use. Tankless hot water heaters have many benefits over conventional hot water heaters since they take up a lot less space and are usually wall mounted, provide exceptional efficiency, and provide a continual supply of hot water that does not run out. The units operate on demand so no energy is wasted when it is not needed.
If you currently have a boiler installed in your home that is older than 10 years, we encourage you to speak with us about a new tankless boiler product. There are many options for switching fuels and products that will really help you save money every month on your utility bills.
Oftentimes, boilers also qualify for government rebates. This can also help to offset the purchase cost of a new boiler product. The Canadian Government wants to encourage green products that reduce a homeowner's energy footprint. They regularly offer incentives to help accomplish this goal and it is an important consideration when choosing a new boiler heater.
Replace An Old Boiler And Increase Efficiency
With our energy efficient boilers replacing an old boiler can really save you a lot of money on your utility bills. Bosch boilers also offer an extremely quiet operation due to special insulation. The Greenstar line boasts an AFUE of 95%, meaning that almost all of the fuel is converted into heat.
Our Bosch boilers offer the best warranty in the industry – A limited lifetime heat exchanger warranty and limited 5 year parts warranty. We make sure to choose suppliers that back up their products for our customers! It's just one of the differences you will find when you choose AirZone HVAC Services for your boiler needs.
Common Ottawa Boiler Questions & Answers
There are many reasons a boiler may not be working properly. This can range from gas related issues to water leaks. The best thing to do in this case is have a certified boiler technician come out and take a look. 
Many people wonder if it is possible to have a boiler provide space heating as well as a nice warm shower. The answer is yes! Combination or (combi) boilers are the solution and can heat both the home and the domestic water.
We have many people asking this question. The answer is yes but with a large caveat. Many homes do not have the electrical infrastructure to support a properly sized electric boiler. Furthermore, the cost to run can be inhibitive. It is best to have a qualified HVAC designer discuss if this solution fits your needs.
A new gas boiler generally ranges between $9,000-$15,000 fully installed and warrantied. 
New high efficiency boilers are generally wall hung and much smaller than the boilers of yesteryear. We can help you redesign your mechanical room and reclaim your valuable space!
Most homes will benefit with an upgraded boiler system. The new units are smaller, more efficient and safer. That being said, some homes have older infrastructure that requires higher output temperatures. In these houses, installing a high efficiency boiler may not be the best choice as they tend to run at lower temperatures to increase efficiency.
Alongside our major Boiler services, we offer a number of accessories to enhance your heating system. Speak with us about the accessories available for more information about if these products are right for your home.
Popular accessories include a smart thermostat that is designed for boiler use, a floor stand if you would like a freestanding boiler unit versus a wall mounted installation, and other boiler controls and modules. We also supply and install boiler repair products to ensure your system is working at its best. Trust the experts at AirZone HVAC Services for all of your boiler accessory needs.