Packaged Terminal Air Conditioners
Ottawa PTAC Sales and Service
Heating & Cooling Solutions
A popular choice for apartments, hotels, and residences, packaged terminal air conditioners (PTAC) offer heating and cooling within one unit. They are regularly designed to be enclosed in a wall, with one side exposed outside the building.
If you are replacing your PTAC unit, we are often able to match your model with a more efficient unit that will have a similar if not an exact fit. This is especially important for our clients who simply want to swap out their old unit for a more efficient one. The new products available today offer a large reduction in utility costs when compared to some of the older equipment.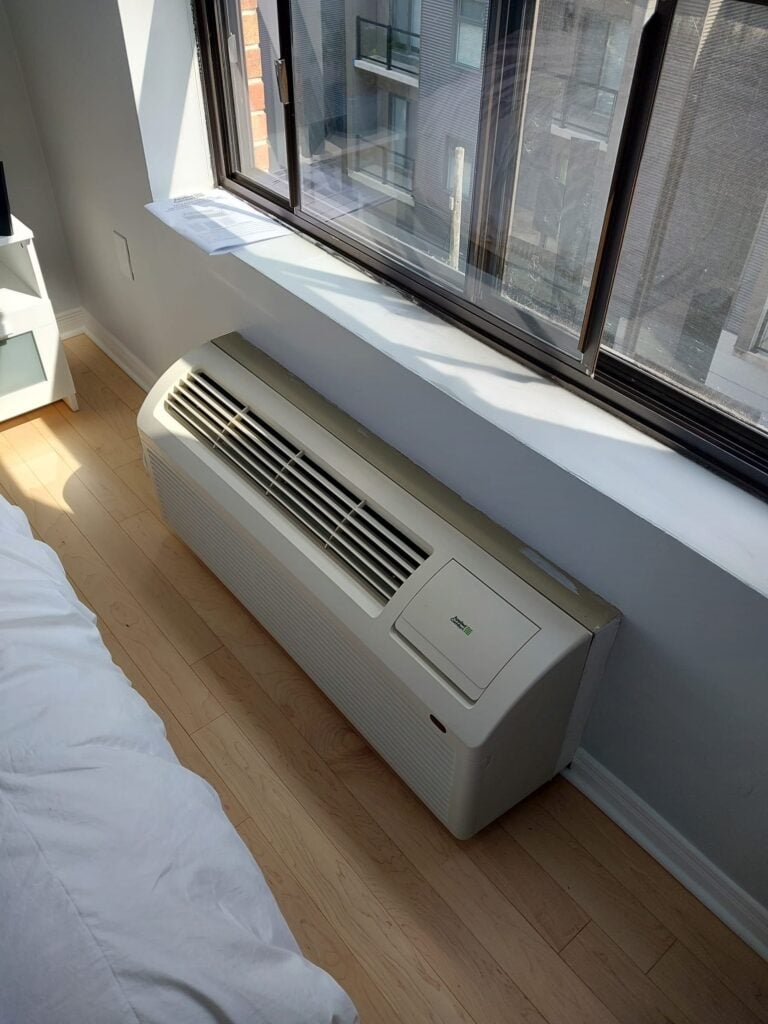 Packaged Terminal Air Conditioner
Sales & Service
Ottawa
AirZone HVAC Services regularly supplies and installs multiple brands of PTACs and fan coil units for condos and apartments throughout the city. These are our most popular units:
Applied Comfort
(C42 & I42)
If you are in a condo or apartment and are utilizing any type of heating and cooling system that is not baseboard electric, chances are we can help you! AirZone is the preferred contractor for multiple buildings throughout the city of Ottawa. Our team has the experience and training to work on these style units and also a competitive buying power, as we are one of the only contractors in the city that regularly work on these style units.
FAQs About PTACs in Ottawa
This very much depends on the size of your current PTAC. The most common size PTAC is 16X42. If your unit is this size, the options open up on replacement. If you currently have a specialized unit that is an irregular size, the replacement options may be limited.
In 2023 the average PTAC cost is around $3500+HST fully installed. The standard size units may cost less but the specialized units can cost up to $8000 +HST due to their scarcity and many are actually manufactured upon order.
PTACS generally require less maintenance than a standard HVAC system. This does not mean it is advisable to neglect your unit! There are generally filters inside the unit that should be cleaned monthly or bi monthly depending on the home and run time. Furthermore, we have many clients that book a cleaning service from us either annually or biannually. This allows a technician to clean the indoor coil, check electrical connections and clean the outdoor grill.
There are a variety of different PTAC models on the market. Some of these units are cooling only and some offer heating. The majority of the heating models utilize electric resistive back up heat (much like an electric baseboard heater). There are models that utilize heat pump heating as well.
Absolutely! Heat pump technology has come a long way and there are numerous heat pump PTACs on the market that allow you to utilize this technology to heat and cool your space. This is a much more efficient and cost effective heat than electric backup.
Work With Your Neighbors And Save On Your PTAC Unit!
We offer significant savings when we are able to replace more than one unit in a building. Our labour and transportation costs are reduced and we are able to pass those savings on to you! Why not ask your neighbors or your building manager if they are also interested in replacing their PTAC(s)? Everyone saves when you combine!
Three Or More Installations In The Same Building
When we install 3 or more PTAC units in one building for 3 different customers, we will offer a discount of 10% off of the equipment cost (for each customer). Installations must take place at the same time.
Five Or More Installations In The Same Building
When we install 5 or more PTAC units in a single building, we will offer each of the 5 customers a discount of 20% off of the equipment cost of each PTAC unit! Installations must take place at the same time.