Air Conditioner Repair & Diagnostic Service Ottawa | AC Not Working
Expert HVAC Cooling Repair & Diagnostic Services
Air Conditioning & Heat Pumps
Cooling Diagnostic & Repair Services
When your cooling system goes down in your Ottawa home you want a reliable and experienced team to rectify any issues. Our technicians are licensed, insured, and directly employed by us to ensure the highest level of service and customer care.
We specialize in heat pump and central air conditioner diagnostic and repair services. Our fleet of repair vehicles are standing by to assist you quickly and get you cool in no time.
We provide transparent written pricing, expert diagnostic and repair services, and a quality you can trust guarantee!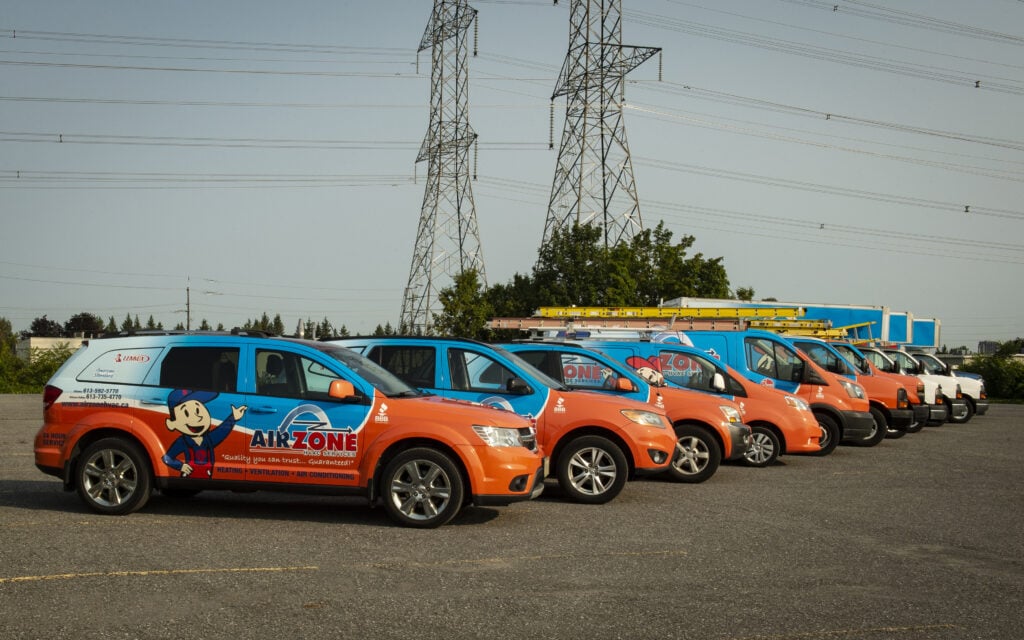 Cooling Repair & Diagnostic Services During Office Hours
For the best pricing book your diagnostic and repair services during our office hours. We offer complete diagnostic services to let you know what's wrong with your equipment. We also offer repair services to fix any issues and always provide a transparent written quote prior to any work being completed.
From $149 per hour (plus HST)
*Higher rate for statutory holidays, and emergency service.
Cooling Repair & Diagnostic Services After Hours
Want your cooling equipment up and running as soon as possible? Book our after hours service for the fastest response time! We are here 7 days a week 24 hours a day and service the greater Ottawa area. Call our main number at 613-592-5770 and choose emergency service for this option.
From $225 per hour (plus HST)
*Higher rate for statutory holidays.
What is the difference between our Diagnostic, Repair and Maintenance Services?
Save on repairs & diagnostic services with our
FAMILY MEMBERSHIPS!
FAMILY PLAN
Annual HVAC Maintenance
Coverage for Most Standard Heating & Cooling Systems*

Discounted Add on Appliances Available ($)

Annual HVAC Maintenance Included

15% Discount on Scheduled Service

Priority Service For Family Members
The FAMILY PLAN is the perfect match for Ottawa Homeowners looking for an easy worry free way to maintain their HVAC equipment ever year.
*Both plans includes coverage of most Ottawa standard heating & cooling systems such as a furnace and air conditioner, heat pump and air handler, ductless heating and cooling system, or other HVAC system approved by our office.
We have designed this plant to provide most homeowners with the needed annual maintenance of their most important equipment.
The FAMILY PLAN brings a huge amount of value to our customers offering additional benefits such as annual maintenance, reminders, and discounts on scheduled service.
Best of all when you join our family through on of our maintenance plans you will receive priority service over other customers. It's our way of saying thank you for being our customer and continuing to support our family business!
FAMILY+ PLAN
Annual HVAC Maintenance + Protection
Coverage for Most Standard Heating & Cooling Systems*

Discounted Add on Appliances Available ($)

Annual HVAC Maintenance Included

15% Discount on Scheduled Service

Priority Service For Family Members

Parts and Labour Coverage

15% Discount on Emergency Services
The FAMILY+ PLAN is the ultimate protection for your heating, cooling, and indoor air quality equipment. It includes annual maintenance as well as parts and labour coverage along with discounts on emergency services!
With more and more complex heat pump and other advanced HVAC systems being installed every day in Ottawa, we created a package that will protect your most valuable equipment and ensure it is operating at it's best.
The FAMILY+ PLAN covers most standard Ottawa heating & cooling systems and has all of the benefits of the FAMILY PLAN with additional coverage and maintenance available through add on pricing. Enjoy the ultimate piece of mind for your HVAC equipment with maintenance, parts and labor service & coverage!
Useful Cooling Repair and Diagnostic Articles
AC Maintenance for DIY Homeowners in Ottawa, Ontario At AirZone HVAC Services we believe in making sure everyone's heating and cooling systems work as efficiently as possible and for as long as possible! For these reasons we have put together a spring air conditioner maintenance checklist ensure that the first
Read More »
Heat pumps have become commonplace in Ottawa homes, but when they malfunction, they can cause inconvenience and discomfort. AirZone technicians are highly trained and experienced in diagnosing and repairing heat pumps of any make or model.
Whether the issue is with the compressor, fan, or other components, we provide efficient and effective solutions to get the system up and running again.
With AirZone's commitment to customer satisfaction and affordable rates, clients can trust that our heat pump repair needs are in good hands.
Trust AirZone HVAC Services for all of your Ottawa heat pump needs!
Did you know that air conditioner repair services are often used to convince buyers to purchase a new air conditioner in Ottawa when it is not actually needed since a repair is the better option? We unfortunately see this very often; an air conditioner has stopped working and a company promises to come out very quickly to replace it. This often happens with cooling units that are 5-7 years old. It is not a new unit anymore and is having issues. Often these ACs have not been maintained correctly leading to problems. One of the most common reasons that we see these failures is due to a clogged filter restricting airflow and causing the system to work harder than it should. At AirZone, we have a team of directly employed air conditioning repair technicians in Ottawa. We do not sub out our repairs because we want to have control over our team and the advice they give to make sure that everyone at AirZone is providing the best advice possible backed by the proper certifications, insurance, and focus on top notch customer service.
AirZone HVAC Services offers air conditioner repairs for all cooling brands. In the field we come across a ton of broken air conditioners each year. This gives us really good feedback about each manufacturer and shortcomings with different cooling design. We get to know which brands to trust and how to get the most out of each product. As an air conditioner repair company we always compare what is in the best interest of our client; to repair the unit or to replace it. We offer honest and straightforward recommendations and always try to do what's best for our customer. Our technicians are thoroughly trained to compare repair cost versus the age of the air conditioner while also considering additional factors such as efficiency. For example, a 9 year old air conditioner that needs a 1500 dollar repair is likely not worth it. It would be better for the customer to instead invest in a new more efficient cooling unit which will offer better dependability and provide energy savings! When financed the cooling unit cost per month can actually be less when considering the cost of the repair. On the flip side if the air conditioner is 3 years old and needs a repair we do everything we can to get that unit working the way it should. This includes in depth training of our team in house and directly with the manufacturer, up to date knowledge about new repair parts and procedures, and repair vehicles equipped with commonly needed parts (to repair all brands). Bottom line is that AirZone is the one to call for a broken air conditioner due to our focus on customer service, honest and transparent advice and pricing, and technical expertise. Thank you so much for considering us for your air conditioner repair!
When you enjoy air conditioning in your home, the last thing that you want to deal with is an AC that is not working correctly.
AirZone HVAC Services makes the repair and diagnostic process extremely easy! Enjoy our red carpet service to get your air conditioner fixed correctly the first time!
Our technicians are specially trained to troubleshoot your air conditioner quickly and efficiently – ensuring that you will be cool in the fastest time possible.
We stock our service trucks with specialty parts so that we almost always are able to complete the repair on the first visit.
There are many different signals that you furnace is not working as it should. Common indicators include loud noises coming from the heater, the furnace blowing cold air or not turning on. Regardless of the issue you are having out expert team of furnace technicians specialize in all brands of furnace. 
We are skilled at getting the most out of your heater especially high efficiency furnaces. Our furnace repair service is a great way to get to know our friendly HVAC team and get your furnace working again the way it should.
By identifying current problems with your air conditioner and having them repaired you will often experience the following benefits:
An increase in the amount of cool air outputted for your air conditioner unit.
A reduction in your monthly cooling costs.
A more reliable air conditioner that has fewer repair needs when you combine a diagnostic with a repair service.