Purchasing and installing heat pumps has become a major trend for homeowners in the last few years. As the HVAC industry adjusts to the massive influx of new technology, some companies are pulling ahead with proper installation practices while others are falling behind. Designing and installing a proper heat pump system requires training, knowledge and willingness to develop. AirZone HVAC Services takes the comfort of our clients very seriously and we do everything possible to ensure your investment is operating to the best of it's abilities.
Proper Heat Pump Design Ottawa
One of the most overlooked aspect in ensuring your heat pump is running well and keeping your home comfortable is the design phase. Proper design includes taking into account many parameters including heating load, duct work distribution, outdoor unit placement and electrical usage.
Heating load is a term that describes how much heat your home needs during the winter to keep the house comfortable. Your HVAC designer must take this number into account when sizing your heat pump. One of the biggest mistakes we tend to come across is, contractors who look at the heating load and simply recommend a heat pump that covers this load. Of course it is great if your heat pump can take care of your entire heating load but in 90% of real life cases in Ottawa this is not feasible. A proper design will aim to take care of as much of the heating load as possible while respecting the airflow allowable, available electrical and actual physical requirements of the units. We far too often see oversized heat pumps offered to clients whose ductwork is insufficient. This leads to noise issues, poor performance and homeowners paying for units that never work properly.
Furthermore, many contractors are recommending systems that may not be able to meet the needs of the home in extreme weather. We have heard from many clients that others have told them they do not need backup heat. This is a practice that is shunned by most insurance companies and is illegal in new home builds. For this reason we are always very careful when designing a system to ensure your home is comfortable, not matter the weather.
Finally, things to consider such as the placement of the outdoor unit, types of materials used during the install, thermostat of choice and many other factors can all contribute to a long and efficient heat pump life!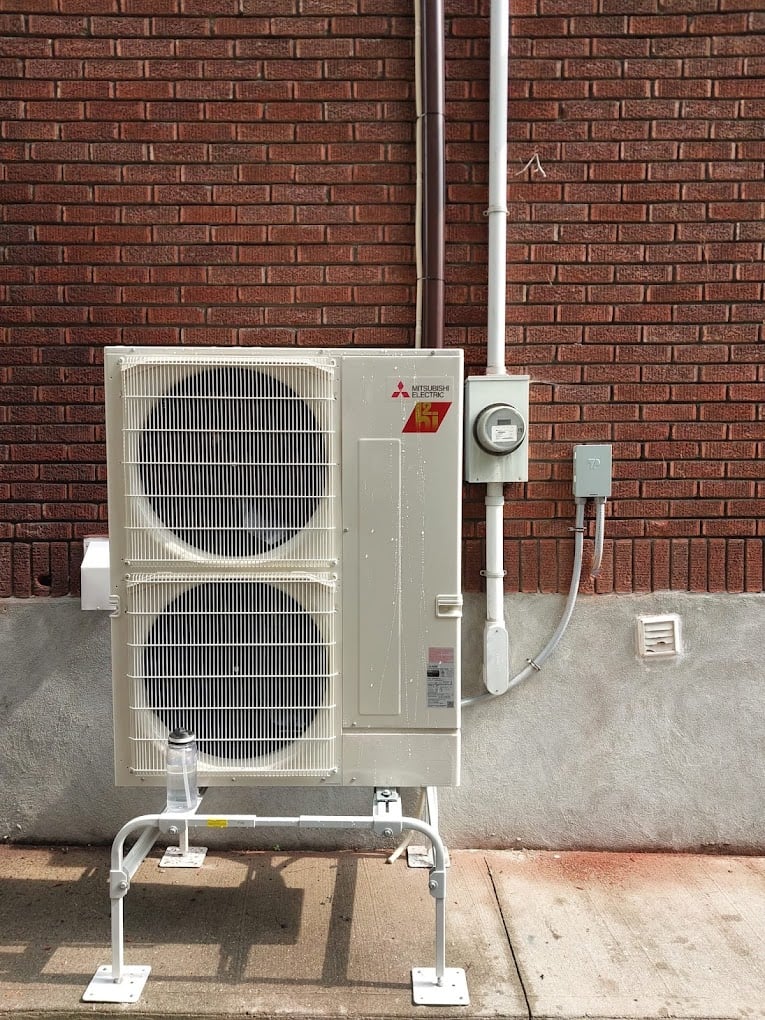 Best Heat Pump Installation Practices Ottawa
The most important day in the life of your heat pump is installation day! This is why it is so crucial to ensure the installing company you choose really knows what they are doing.
Our team always ensures we are using the very best practices when we install your heat pump. Things like using the proper materials and only high end accessories. We use high end stands, Great Lakes Canadian copper and other top of the line materials.
During installation, our technicians flow nitrogen to protect equipment during brazing procedures. These type of techniques should be common practice but are far too often overlooked. Proper vacuuming of the lines is used to make sure no contaminants are held within the system. Skipping of these two steps is a sure fire way to create issues down the road with your heat pump.
The set up and calibration of your heat pump is an absolutely crucial step during the installation. Over a dozen times this year alone we have been called out to fix installations from other companies that "Can't make the heat pump work". Nearly every time we find improper wiring, the wrong thermostat or completely erroneous settings on the thermostat. Ensuring set points, thresholds and other settings are dialed in as per the manufacturers recommendations is an important step to make sure you are getting the efficiency you are paying for!
A properly designed heat pump system is the first step towards success and when combined with a meticulous installation, guarantees years of good service from the machine.
Protecting your Heat Pump Ottawa
Protecting your new investment is one of the ways we help homeowners in the Ottawa area. From things like surge protectors to heat pump covers, AirZone HVAC Services is making sure your heat pump gives you the longevity you deserve. The majority of our systems are equipped with a media cabinet filtration system that allows for better airflow and protects your furnace/air handler. As Ottawa's leader in heat pump installations, the four or five add ons we always recommend can give you peace of mind knowing your system is being protected.
Furthermore, our ultra competitive protection/maintenance memberships allow homeowners to receive white glove service year after year. Having your heating and cooling system maintained annually is a perfect way to make sure the efficiency stays high and the unit is working within manufacturer specifications.
The best heat pump installations combine the three things mentioned above: proper design, best installation practices and protecting your equipment. At AirZone HVAC Services we have perfected these skills in order to deliver Ottawa homeowners a high end heat pump experience. At the end of the day, we strive to deliver comfort, longevity and efficiency and take this promise very seriously. If you are looking to have a heat pump installation in the Ottawa area, please feel free to call our office at 613 592 5770 to book a free in home consultation!